KITCHEN AND BATHROOM RENOVATIONS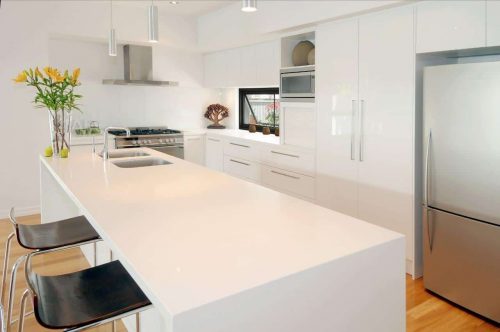 Custom Cabinets In Renovations
A kitchen or bathroom remodel is a great way to give your home a new lease on life. With more than 50 years of experience in refurbishments and fit-outs, you can trust our award-winning team to get your job completed on time and budget.
We have worked on many high-end projects so you can be assured your custom-built cabinetry will be finished to perfection and functional.
Committed To Excellence
As part of our commitment to excellence in customer service, we provide an estimator to ensure your requirements fit your budget and an interior decorator to help you select colour schemes and appliances.
Whether you have very definite ideas about what you want, or you're looking for help in making your existing home, office or retail space more practical, talk to our team today.
We also build modular units, storage units and shelving. Our ideas are endless.
Visit our contemporary showroom in Caloundra for design inspiration, or view examples of our past projects.
Kitchen renovations Sunshine Coast residents need
Askin Cabinets provides high-quality kitchen renovations Sunshine Coast residents can rely on to deliver high performance and exceptional good looks. Able to create customised kitchens suitable for any size or space, we are committed to making every project a stunning success.
FREE QUOTE: (07) 5491 2765
The advantages of customised kitchen renovations
Considering a kitchen renovation? Take a look at the benefits a customised kitchen can bring:
Choose the accessories and features you want in your dream kitchen. From wine racks through to an integrated beer cooler, statement lighting or an enclosed recycling facility, we can build in whatever you want for a perfect interior.
Placement to suit your kitchen usage. Being able to decide exactly where you want your cupboards, and what's going to go in each, results in a kitchen that's intuitive and easy to use. Whether you want a chef's kitchen, or a minimalist option that facilitate fast, hassle-free cooking, a custom kitchen is designed to meet your needs.
Any style of kitchen. Needless to say, a custom kitchen gives you the freedom to select the materials and colour scheme you prefer. Whether you like a neutral kitchen, a contemporary kitchen that features darker hues, a retro-kitchen, kitsch kitchen or one that features industrial styling, we can create what you're looking for.
Premium materials for long-lasting appeal. Kitchens don't just need to look good, they also need to work well! When you use us for your kitchen renovations, you'll be working with a company that partners with leading manufacturers to bring you beautifully constructed units made from high-grade materials. A combination of exceptional build quality and durable, superior materials result in stunning kitchen renovations that last well and benefit from exceptional performance.
Meticulous attention to detail. It's the little things that make an enormous difference to the overall look of your kitchen. The kitchen renovations Sunshine Coast property owners get from us are packed with little touches that demonstrate excellent craftsmanship. From properly finished edges through to carefully chosen cupboard handles and cupboards and drawers that are carefully finished inside and out, no detail is overlooked.
Top-quality materials and time-served workmanship for great kitchen renovations
A kitchen renovation not only results in an attractive living space that's a joy to use and spend time in, but it can also add significant value to your property. An Askin Cabinets kitchen installation offers excellent quality and value, as well as a kitchen that's built to last. We install our custom kitchen cabinetry carefully, resulting in a robust, durable kitchen that can last for decades.
Our focus on quality materials and advanced cabinetry techniques means our kitchens require minimal maintenance and keep looking good long after inferior installations have begun to look tatty and dated. We offer a full project management service, completing every aspect of your kitchen from initial design through to preparatory work, installation and final inspection and details.
Kitchen renovations Sunshine Coast: get in touch to discuss your requirements in more detail.
Before & After Renovations