Kitchen cabinet hardware can be a quick and easy way to update. You can do various things with them, such as changing the handles, knobs, and hinges to create a more fashionable, more trendy or bolder look. You can go for bold colours or something more subtle, modern or traditional. It won't cost a fortune, and it won't be long before you have a new look for your kitchen.
While browsing the latest trends and designs for kitchen cabinet hardware, you'll be able to see how easy it is to update your cabinets with a new look. You can find everything you need online. You can even see how it will look with your cabinets before you purchase.
In this article, we'll take a look at some of the best trends in kitchen cabinets. Read on below to learn more.
Open-Frame Kitchen Cabinets
Open frame kitchen cabinets are popular because they combine open shelving with traditional cabinets. Because of this, they also make a good kitchen display case.
Open frame kitchen cabinets look great when used with a marble countertop. The stainless steel handles on your cabinets compliment and accentuates the marble. If that's not your style, they also come in different materials and finishes to meet varying needs, such as glass doors, stainless steel open frame cabinets, and white open frame cabinets.
Wood-Stain Color Cabinets
Many professional interior designers agree that dark colours and wood are hot trends in kitchen design, which is contrary to popular belief. They work as an accent piece in kitchens to give the space a dramatic and luxurious look and warmth. If you're careful, don't overdo it because your kitchen may look dull.
Two-Tone Kitchen Cabinets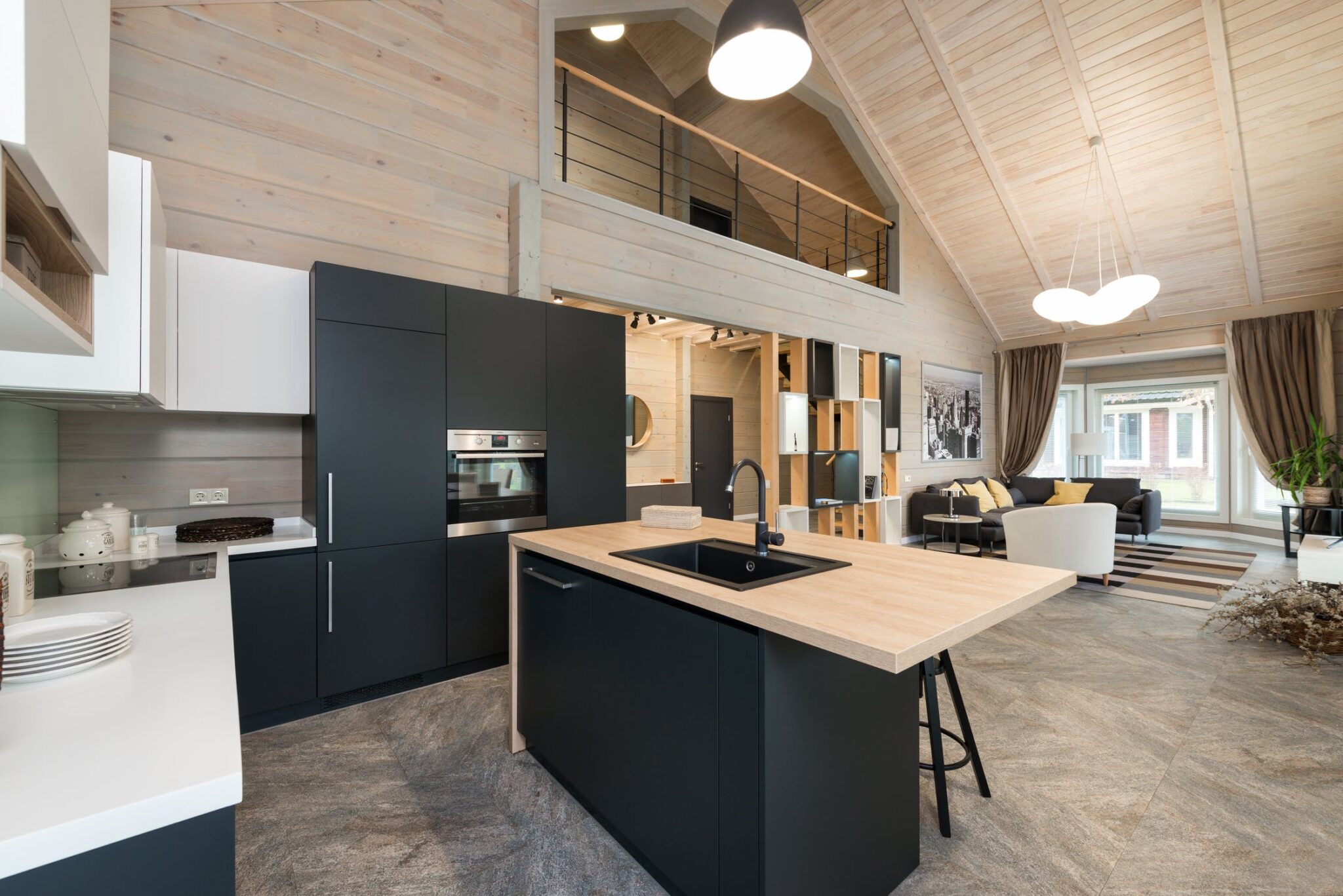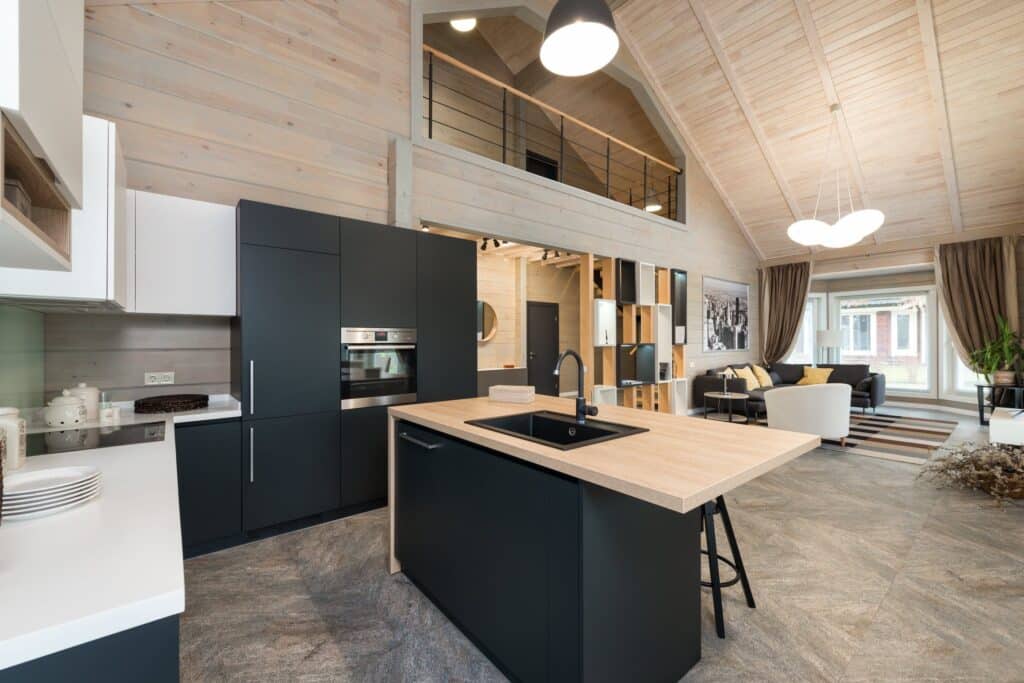 You can make a bold statement with two-toned kitchen cabinets: light and dark-coloured cabinets that give your kitchen the appearance of a balanced design. Getting them is also a chance to experiment with various colors.
It's recommended that you use contrasting colours for the upper and lower cabinets. On the other hand, you can also go for a blend of both colors to create a focal point in your kitchen.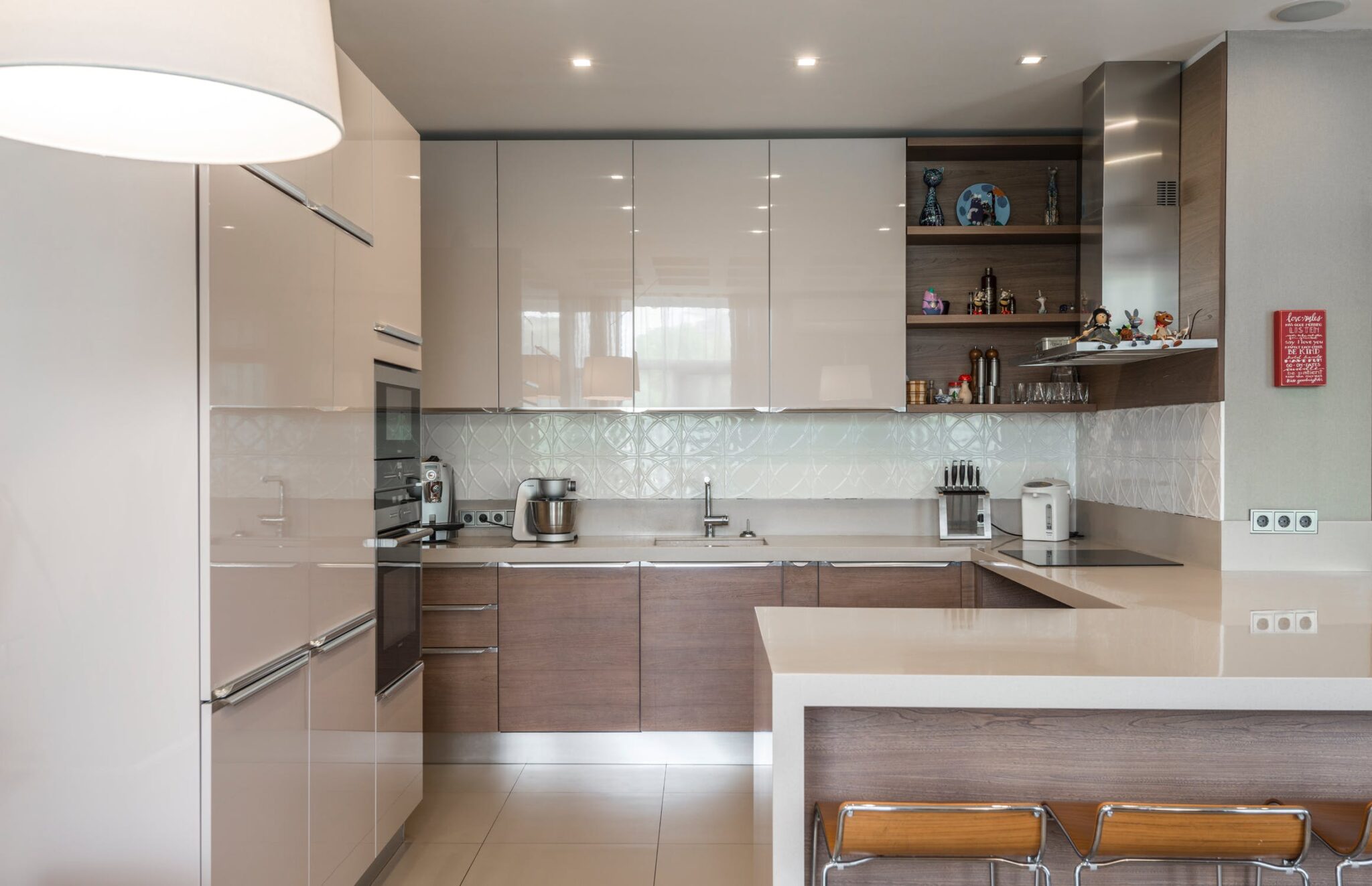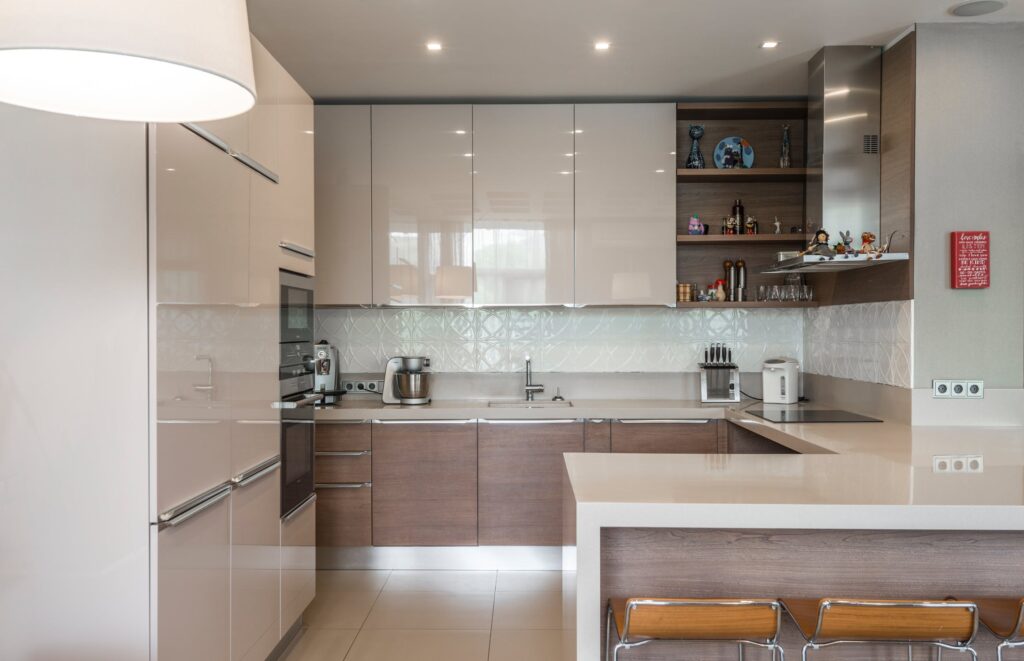 Are you looking to spice up your kitchen with a new look? Consider glossy, acrylic cabinets. To add some style to your kitchen design, use modern, sleek cabinets with simple hardware. These eye-catching cabinets add a luxurious appeal to any home, especially in an open kitchen design.
However, it's worth noting that it's not for every kitchen because it's high maintenance. So if you're looking for a low to mid-maintenance kitchen cabinet, you can go for other options instead.
Minimalist Kitchen Cabinets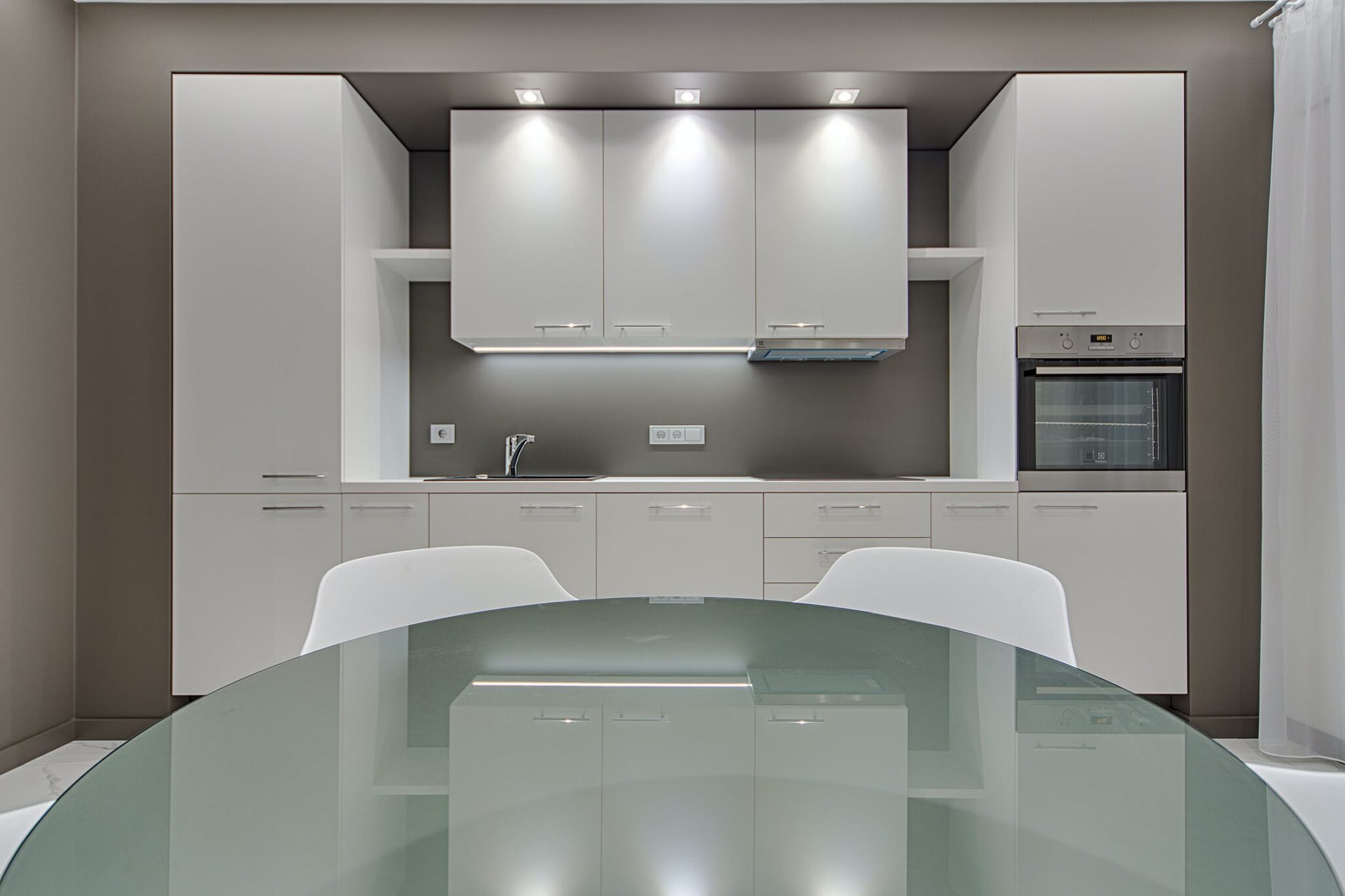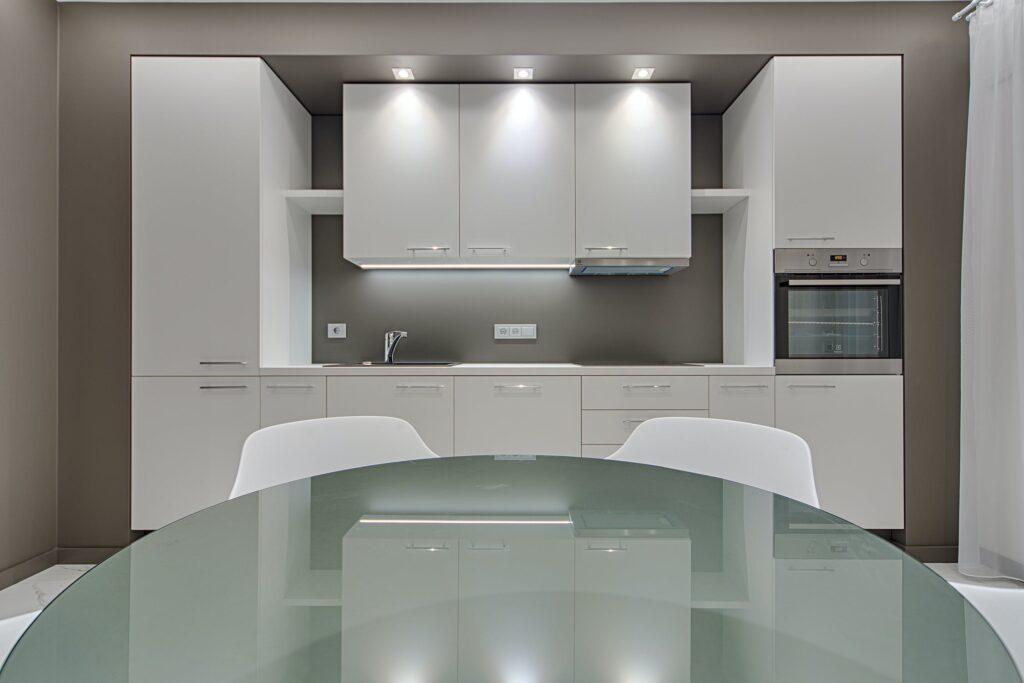 Modern kitchen cabinets are designed with recessed handles to give the appearance of a continuous cabinet door. These handles are usually either straight or have a slight curve. Due to the fact that they cover most of the front of the cabinet and match the rest of the design, these handles can make a significant impact on how your kitchen decor looks and whether it is modern or traditional.
If all else fails, every homeowner can lean on customised kitchen cabinets to do the job. They're made specifically for a homeowner's kitchen storage needs, so what more can you ask for?
Kitchen design influences how your kitchen looks. It's constantly changing, so it's recommended that you choose a style and trends that will be in fashion for many years to come. You won't have to worry about switching up your kitchen design every few years if you do.
If you're looking for kitchen cabinet makers in Brisbane, look no further than Askin Cabinets!  We can make cabinets for various purposes, be it for a new or renovated kitchen. Contact us today to learn more!