Are you thinking of adding new kitchen cabinets to your kitchen remodel, or are you looking to install a kitchen cabinet for your new home? The storage space within your kitchen cabinets and its placement can instantly improve the efficiency of your kitchen.
With the proper planning, you can have a cleaner cooking space free of crowded benchtops and a lack of storage. Simply adding well-planned kitchen cabinets can make your home fresher and livelier instead of looking glum and crowded.
This article will run you through the factors you need to consider when getting kitchen cabinets.
The Layout of Your Kitchen
Before you purchase kitchen cabinets, you need to consider the layout of your kitchen. Make sure that the new kitchen cabinets you are getting will fit in well with the existing structure of your kitchen.
You do not want to buy a new set of kitchen cabinets only to realise that they do not fit with the current layout.
You may have a smaller kitchen or have an L-shaped island. Consider where your kitchen cabinets will be, along with your fridge, cooktop, dishwasher, and other kitchen appliances. Making your kitchen too crowded will result in chaos.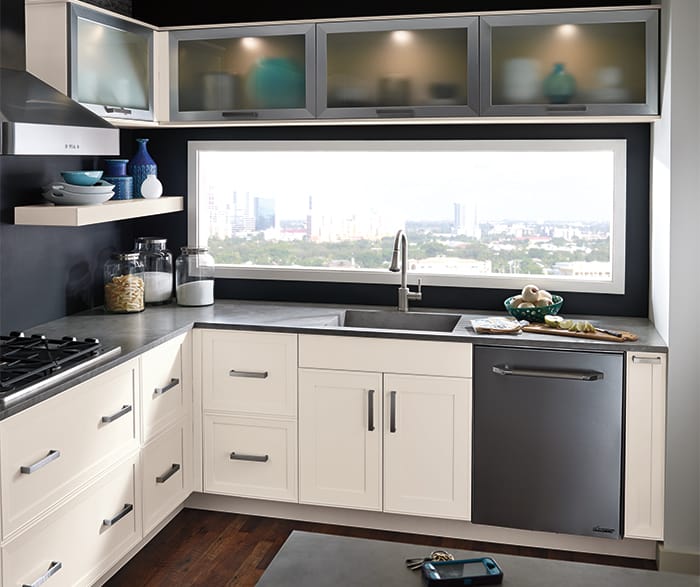 How Much Storage Do You Need?
Your kitchen cabinets will dictate how organised and easy to use your kitchen will be. You need to think about the functionality of your kitchen first before adding new kitchen cabinets.
Kitchen cabinets with a lot of storage space would be perfect for someone who likes to bake, entertains friends at home, or has a busy household with kids and pets. Having more storage space lets you keep your counter clean and clutter-free as you can easily store your utensils, plates, pans, and kitchen tools.
If you have major appliances like ovens and integrated fridges, having kitchen storage that works with these items can increase the functionality of your space. You can have custom storage personalised to store your specific items like toasters, kettles, etc.
Should You Use Drawers, Doors, or a Combination?
Drawers are ideal for lower-level cabinets where you can pull them out and reveal stacks of pans or cookware from an aerial vantage. Meanwhile, doors are ideal for upper cabinets as you can open these and see most of the items in your cupboard.
It helps to consider the amount of cookware you consider as pantry staples and how you would like them to be stored. You can use a combination of drawers and doors for optimisation.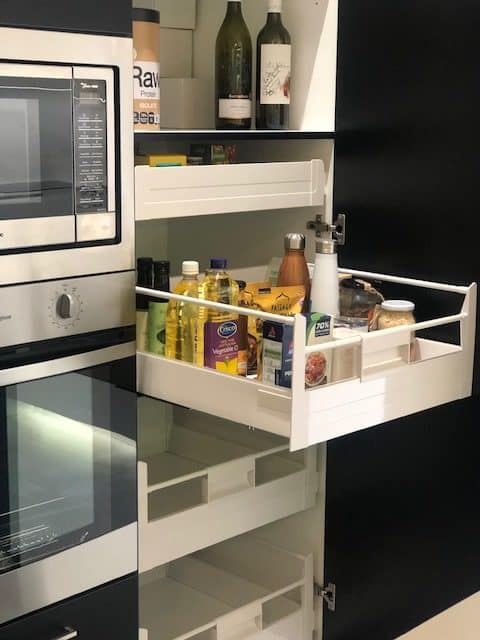 Styles of Parts and Accessories
You will want to consider the hardware that your kitchen cabinets come with, because everyone wants their kitchen cabinets to be aesthetically pleasing and functional.
Does your kitchen have a traditional and rustic style, or does it have a luxe and modern aesthetic? The parts and accessories of your cabinet should match this aesthetic.
Likewise, you can also choose the finishing you want on your cabinet. Whether you're drawn to frosted and panelled glass doors or textured melamine surfaces, you can select a finishing to match your style.
You can also choose to have all custom kitchen cabinets where you can select the style, colour, size, and accessories. These can be customised to suit your kitchen better.
Conclusion
Kitchen cabinets can instantly upgrade your kitchen space. They not only have to be functional but also have to be well-designed to match the aesthetics of your home.
It is important to choose kitchen cabinets that will increase the functionality of your kitchen while keeping them well-organised and aesthetically pleasing.
Are you looking for kitchen cabinet makers in Brisbane to make the ideal kitchen cabinets for your home? Askin Cabinets are expert cabinet makers who can design, manufacture, and install custom cabinetry for your home. Give us a call to learn more!