The Best Kitchen Layout Ideas for Your Dream Home
Whether you've just moved in or are planning a remodel, organizing kitchen storage takes some planning. Consider the size of the drawer or cabinet, its proximity to the stove or dishwasher, and its ease of access when deciding where to store your glasses, cookie sheets, and so on.
Function should come first, followed by form. After all, kitchens should be designed so that cooking is fun and efficient, allowing us to spend more time with our loved ones! So without further ado, here are the best kitchen layout ideas (as well as storage and organization tips) that are perfect for your dream home!
For the Single-Wall Kitchen
This space-saving design is ideal for small kitchens. It also has upper and lower cabinets or shelving above base cabinets for a clean look.
For The Galley
A galley kitchen is made up of two rows of cabinets that face each other and are separated by an inner passage or galley. This design eliminates the need for corner cupboards, allowing for the most efficient use of available space. Because of the design's simplicity, fewer specialized gadgets are required, making this a cost-effective option.
For the L-Shaped
L-Form Cabinets line both sides of two perpendicular walls. Although the open-plan design of the L-shaped kitchen allows for a great deal of flexibility in terms of appliance placement and work zones, the corner necessitates some inventive cabinetry solutions. While the L's legs can be as long as space allows, keeping them under 4.5m in length is recommended for ease of use.
For the U-shaped
Because it has cabinetry on three adjacent walls, a U-shaped kitchen is ideal for larger kitchens. If all three walls are lined with upper cabinets, this layout provides plenty of storage but may feel confining. Install upper cabinets on only one or two walls and open shelving, tile accents, or a range hood on the remaining walls to avoid this. The U-shaped kitchen facilitates a multi-user workflow.
For the Peninsula
A peninsula is an extension of a kitchen counter that extends beyond the confines of a wall or cabinetry. This is a great option for small kitchens that don't have enough space for a separate island as it also allows you to do other things during daily meal prep.
For the Kitchen Island
A kitchen island in the centre of the kitchen provides a large work surface or a storage area. A cooktop, prep bowl, bar, and wine refrigerator can all be added to the island. It can also be used for quick preparations or family meals. While the kitchen must be large enough to accommodate an island, its placement allows for natural traffic flow.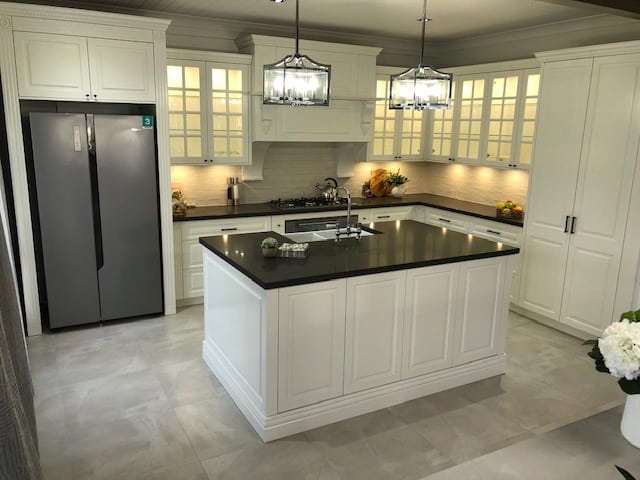 Kitchen Storage and Organization Tips
Add Drawers to the Range's Left and Right Sides
Those who have had to kneel to retrieve pots and pans from lower cabinets will agree that drawers are a better option for cookware that does not stack well. Thus, make sure you add drawers to the range's left and right sides to improve drawer utility.
Expanding the Appliance Space
For an existing kitchen that cannot accommodate large appliances such as mixers, slow cookers, or blenders, the only option is to remove the cabinet shelves and expand the space. Keep this tip in mind when you customize your kitchen.
Consider Your Trash, Knives, and Sink
Install roll-out trash and/or recycling bin inside your cabinets, preferably near the sink and dishwasher. We also suggest storing knives in a top drawer near the trash and sink. This will make you and those who enter your kitchen feel more secure.
Conclusion
This space in your home must be sacred, maintained, and well-designed. After all, a kitchen can give your home your desired experience on a daily basis. Because of this, it's simply important to make your dream kitchen come true in order to make your dream home happen. With these tips in mind, you'll be well on your way to achieving this!
Askin Cabinets is a trusted team of custom cabinet makers in Sunshine Coast, Australia. With our all-inclusive packages and unrivalled quality, your dreams will finally come true. Get in touch with us and request a quote today!