Have you considered buying cabinetry for your laundry room? Think about this, even when you have hampers for your dirty laundry, you still sometimes dump them in the corner of your bed or parts of your bedroom floor. Now, what do you usually do with your dried clean laundry? Before finding the time to fold or iron them, they're most likely just cluttered in your room in heaps.
This is where laundry cabinets come in. They have been in demand among smart homeowners and are now available in various hardwood and steel cabinets for storing your clothing.
Below, you will find out why custom cabinets are an excellent addition to your home and how you can choose the right laundry cabinet for you.
The Value of Laundry Cabinets
People often wonder why they should add cabinets in their laundry room. After all, this area is solely for the purpose of washing dirty garments. Well, thankfully, the days of cluttered laundry rooms are long gone. See, if you have separate laundry cupboards, you can tell which pieces of clothing need to be washed and which have already been washed.
People nowadays pay attention to the room's arrangement as well as its aesthetics. In fact, laundry room decorating ideas are a hot topic right now. This is because, like kitchen cabinets, a well-designed laundry room may boost the value of your home.
Advantages
Storage: Your custom cabinets can be drawers, shelves, or countertops. You receive more storage space with laundry room cabinets, which you may use to store both your washing and ironing supplies. Other laundry-related things can also be stored in these cabinets.
Organization: Laundry room cabinets will allow you to better organize your stuff. Because you'll have a dedicated location for each of your materials, finding them will be a breeze. And you'll be able to do it quickly!
Work Area: Lower cabinets have countertops, so you'll have ample space to sort and fold your things. Sewing, painting, and other craft activities can all be done in your laundry room if you so desire. They may also include racks that can be used to hang clothing right after they've been taken out of the dryer. This way, the necessity for ironing can be avoided.
Beauty: Your laundry room will gain an aesthetic appeal as a result of the laundry room cabinets. You won't have to hide this room from your visitors because you're ashamed of stinky dirty laundry. You can even brag about it in front of them. The market worth of your home may also increase as a result of the visual appeal of this area.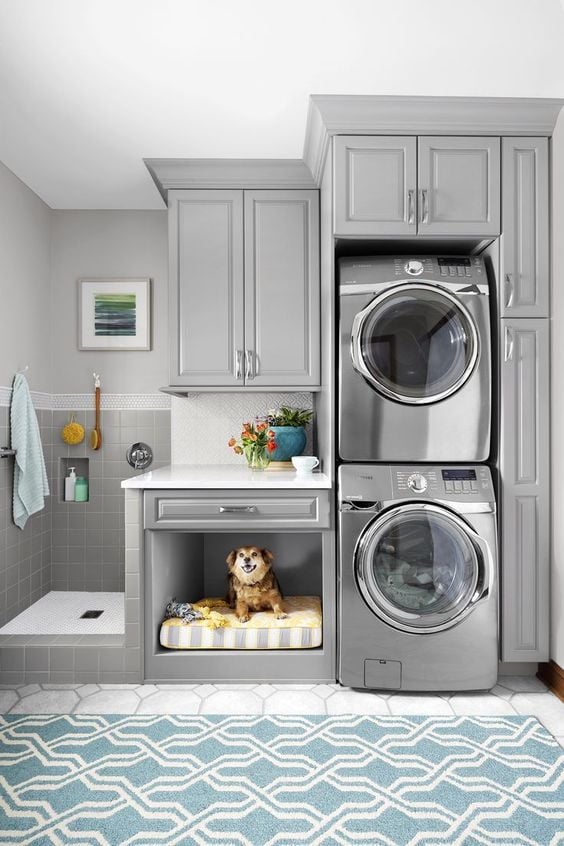 Choosing Laundry Room Cabinets
In selecting your custom cabinets, you must first decide what items you want to store in the laundry room cabinets. Take measurements of your laundry room to ensure that you obtain the correct size cabinets.
Then, make an informed decision about where you want your cabinets to go. Remember that appliances should be considered when laying out cabinet placements. Also, consider whether you'll require additional space for folding and ironing your clothes.
Conclusion
Don't forget to think about the style and appearance of your laundry room. Mismatched cabinets can not only detract from the attractiveness of your room. However, it will also lower the value of your home. If you're unsure what to do, consult with interior design experts or professionals who have spent years making cabinets for homes like yours.
Get experienced custom cabinet makers in Queensland to build your laundry cabinets! We at Askin Cabinets design, manufacture, and install gorgeous custom cabinetry for kitchens, bathrooms, wardrobes, and laundry renovations. Check out our services to know more!